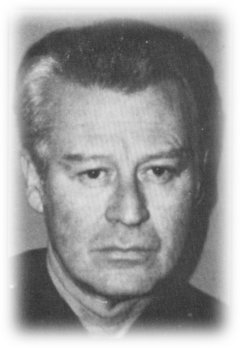 Deputy Gene Luther was killed in an abortive robbery attempt while off duty on April 25, 1980.
Deputy Luther was leaving a north area restaurant at about 10 p.m. When he reached his car in the parking lot and opened the car door, he was confronted by an armed subject who demanded all his money. In an effort to protect himself, Deputy Luther drew a small caliber handgun; however, the suspect fired first. Deputy Luther was able to return fire, and it is believed he may have struck the suspect. Deputy Luther died at the scene.
Despite an exhaustive investigation, no one has ever been prosecuted for Deputy Luther's murder.
*Important: Back when Deputy Luther passed away, someone at the Sheriff's Office, with the best of intentions, formalized his name to Eugene. Unfortunately, his name was NOT Eugene, it was simply Gene. As a result, his name has been misspelled for years. Deputy Luther made the ultimate sacrifice, and out of respect for not only this sacrifice but also for his surviving family members, we have an obligation to do everything we can to fix this mistake. The necessary paperwork has been submitted to the president of the Sacramento Police & Sheriff's Memorial Foundation to have the top of his bollard recast; we do not have an estimated time of completion yet. Deputy Michelle Luther, Gene's granddaughter, and I (Julie) have been working to have the engraving on the National Law Enforcement Officer's memorial wall in Washington, D.C., corrected, and we anticipate that being done in the Spring of 2022. Eventually, we hope to see it fixed everywhere. If you spot Gene Luther's name spelled incorrectly, please ask the responsible party to fix it. If they require verification, please have them email jprayter@scdsa.org.
California Peace Officer Memorial Foundation Monument
Gene Luther's name can be seen on memorial plaque #8 on the California Peace Officers Memorial Foundation's bronze monument in downtown Sacramento. The monument is located on the West side of 10th Street, between N Street and Capitol Avenue, across the street from the West steps of the Capitol building.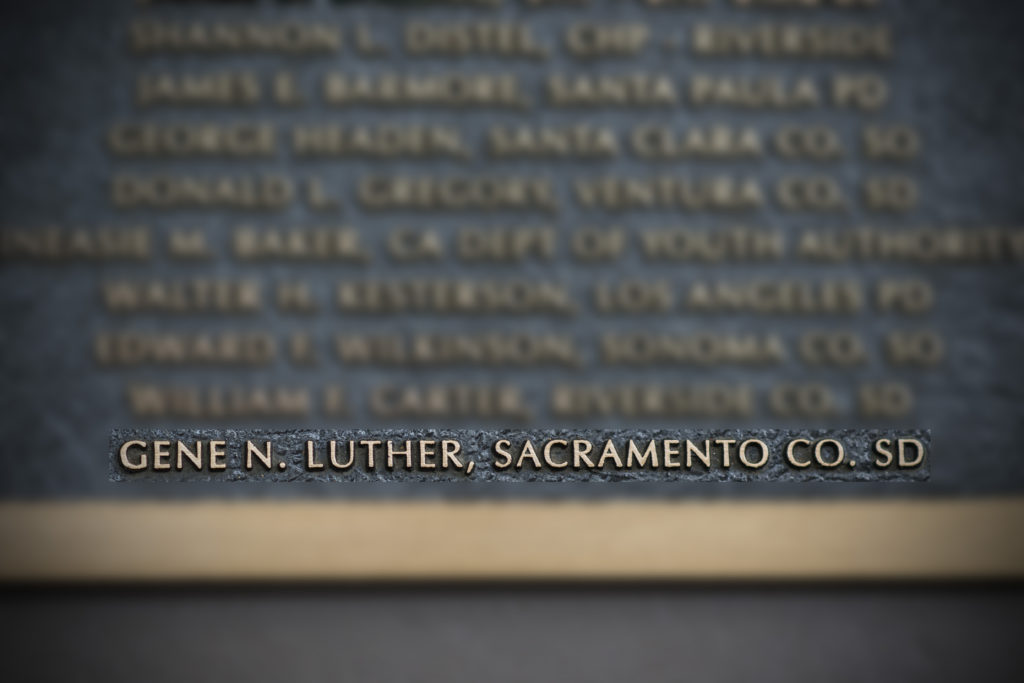 Sacramento Police/ Sheriff Memorial
A bollard dedicated to Gene Luther can be seen at the Sacramento Police & Sheriff Memorial at 500 Arden Way in Sacramento.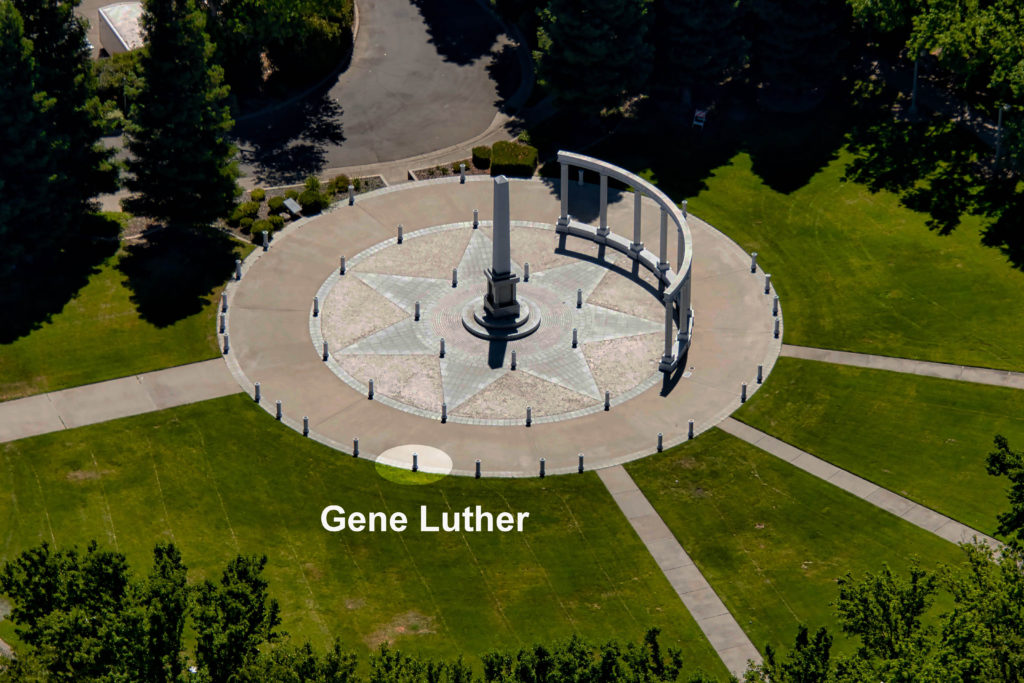 National Law Enforcement Officers Memorial, Washington., D.C.
The names of our fallen are engraved and can be seen at the National Law Enforcement Officers Memorial, located at 444 E St. NW in Washington, D.C.  It is updated every Spring in anticipation of National Police Week. Gene Luther's name can be seen on memorial panel 21-W: 3.
Academy Rose Garden
The Sacramento Sheriff Office's Memorial Rose Garden is located on the Academy grounds at 1000 Riverwalk Way in Carmichael.  Each of the fallen has a dedicated rose bush and memorial plaque. There is also a street near Classroom 12 named after Gene Luther.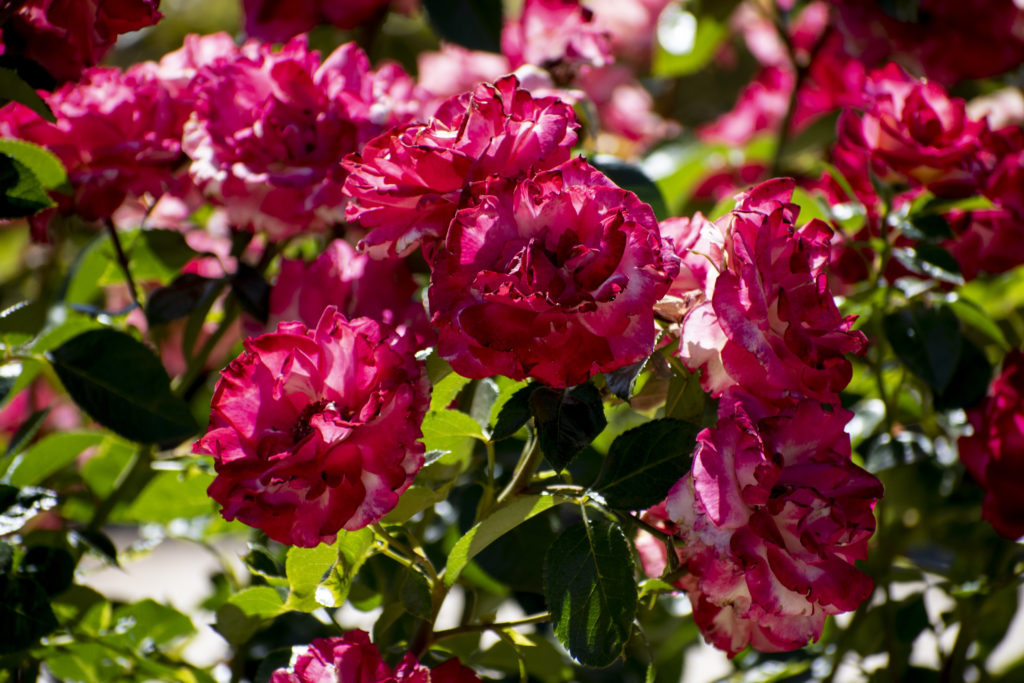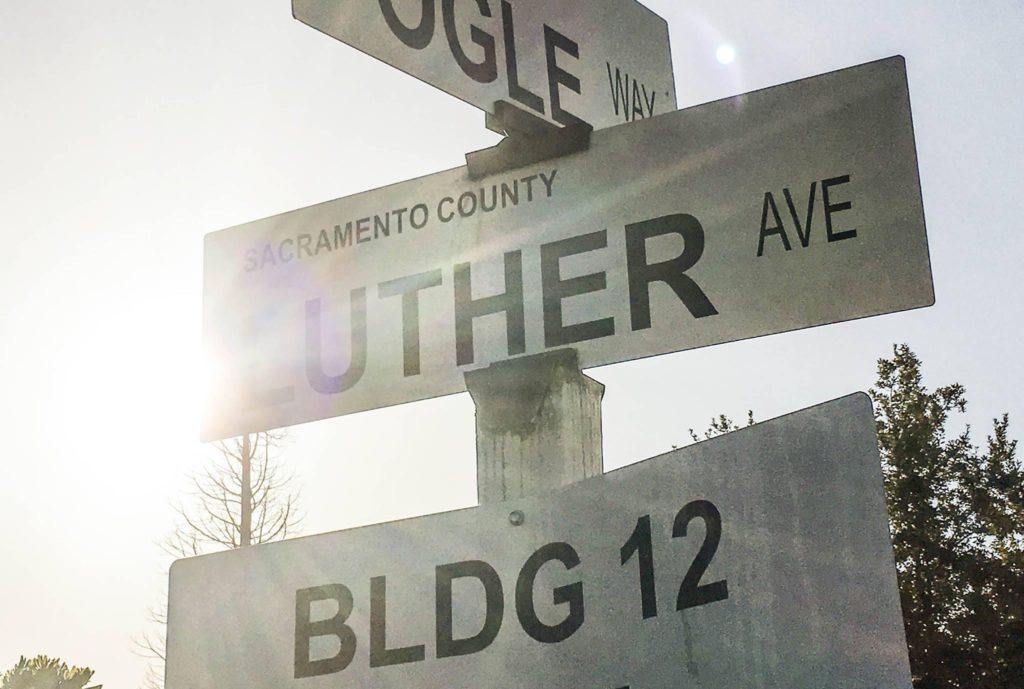 Rio Cosumnes Correctional Center
A memorial wall in the administrative area of the Rio Cosumnes Correctional Center bears a plaque honoring Gene Luther.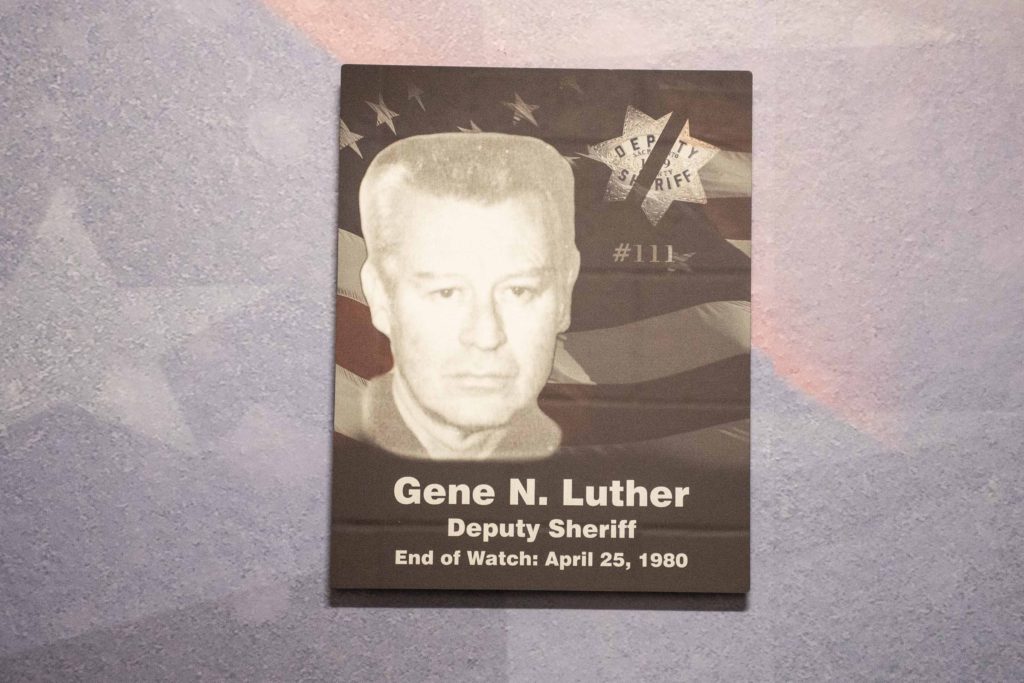 Grave Site
Gene Luther was laid to rest in Section B, Tier 2, Grave 137, at Odd Fellows Lawn Cemetery and Mausoleum, located at 2720 Riverside Boulevard in Sacramento.