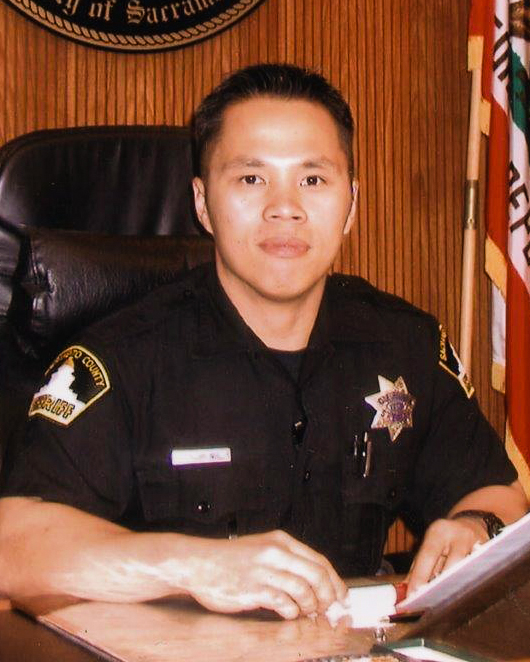 Shortly after 2:00 pm. On Wednesday, December 19, 2007, Detective Vu Nguyen and his partner were driving through the neighborhood of 37th Street and 41st Avenue in Sacramento when they saw a suspicious subject. Detective Nguyen exited the vehicle to approach the subject when he started running. Detective Nguyen immediately gave chase on foot as his partner drove their vehicle to intercept the fleeing subject. Detective Nguyen pursued the suspect over numerous backyard fences. Moments later, gunshots were fired. Detective Nguyen was discovered critically injured with gunshot wounds. He was transported to the hospital, where he succumbed to his injuries.
An intensive search for the killer began culminating in the arrest of a 16-year-old suspect in the early morning hours of the following day. Tips from the public and the extensive investigative efforts of numerous law enforcement agencies helped apprehend this vicious killer of a dedicated officer who paid the ultimate price.
California Peace Officer Memorial Foundation Monument
Vu Nguyen's name can be seen on memorial plaque #7 on the California Peace Officers Memorial Foundation's bronze monument in downtown Sacramento. The monument is located on the West side of 10th Street, between N Street and Capitol Avenue, across the street from the West steps of the Capitol building.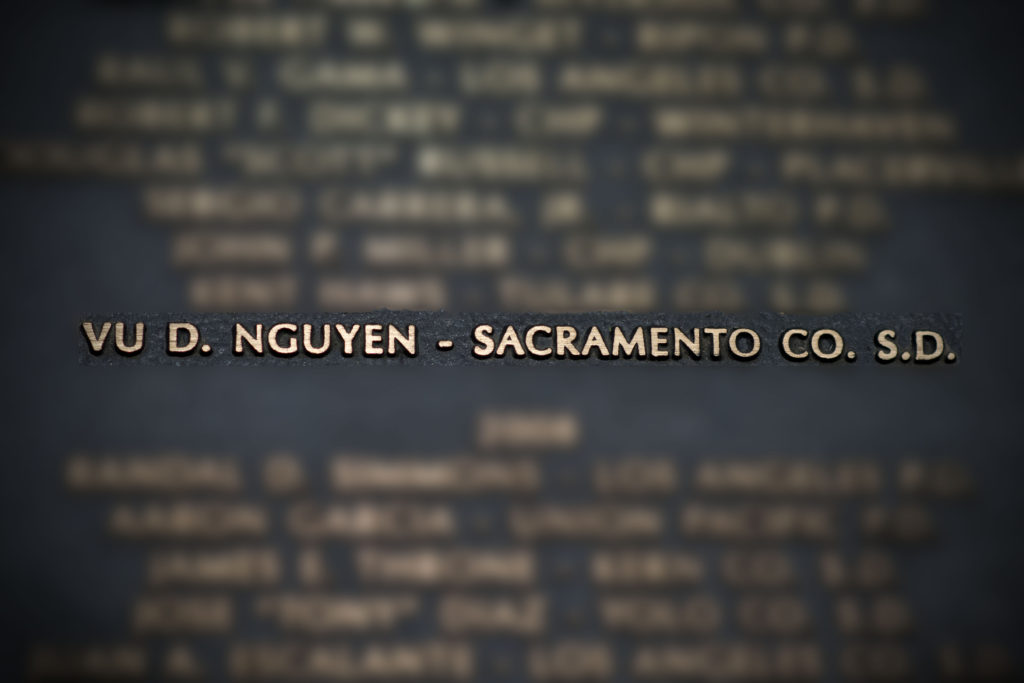 Sacramento Police/ Sheriff Memorial
A bollard dedicated to Vu Nguyen can be seen at the Sacramento Police & Sheriff Memorial at 500 Arden Way in Sacramento.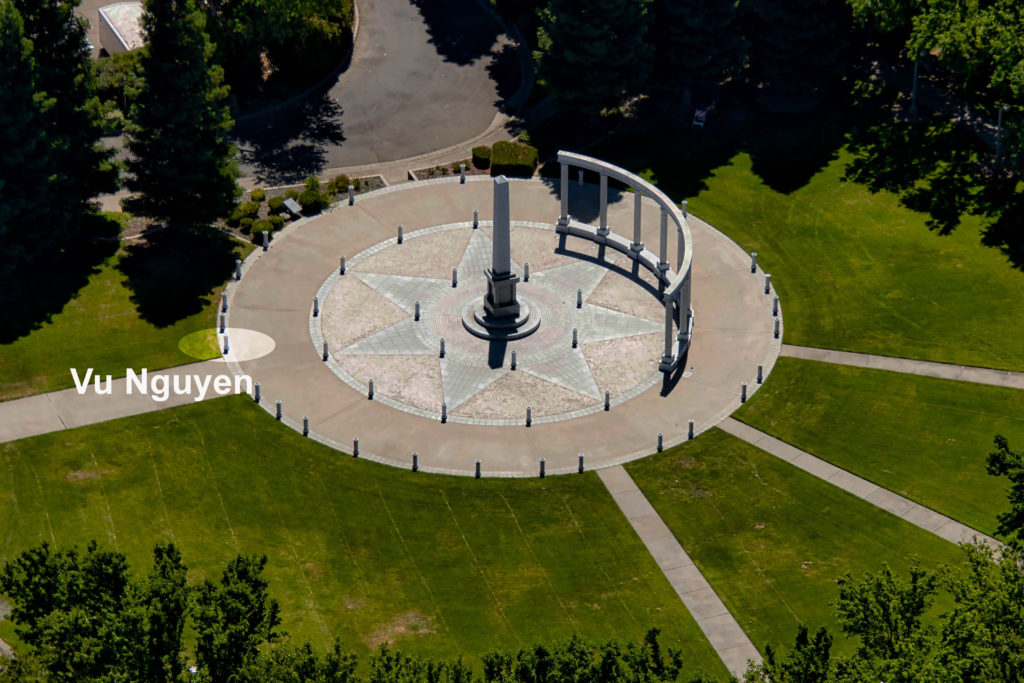 National Law Enforcement Officers Memorial, Washington., D.C.
The names of our fallen are engraved and can be seen at the National Law Enforcement Officers Memorial, located at 444 E St. NW in Washington, D.C.  It is updated every Spring in anticipation of National Police Week.  Vu Nguyen's name can be seen on memorial panel 44-W: 26.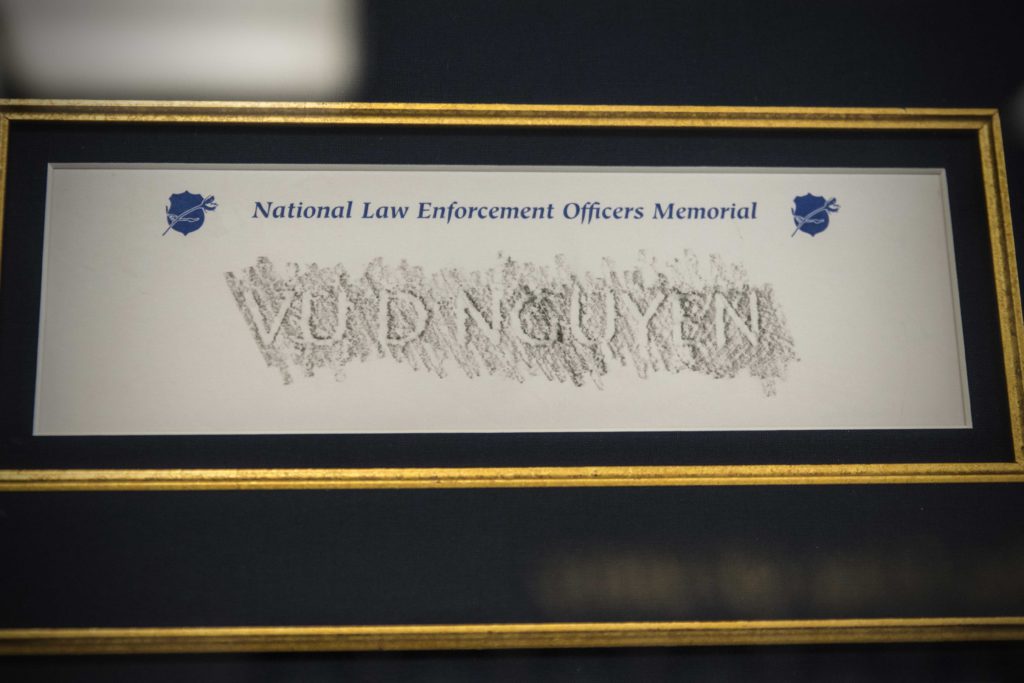 Academy Rose Garden
The Sacramento Sheriff Office's Memorial Rose Garden is located on the Academy grounds at 1000 Riverwalk Way in Carmichael. Each of the fallen has a dedicated rose bush and memorial plaque.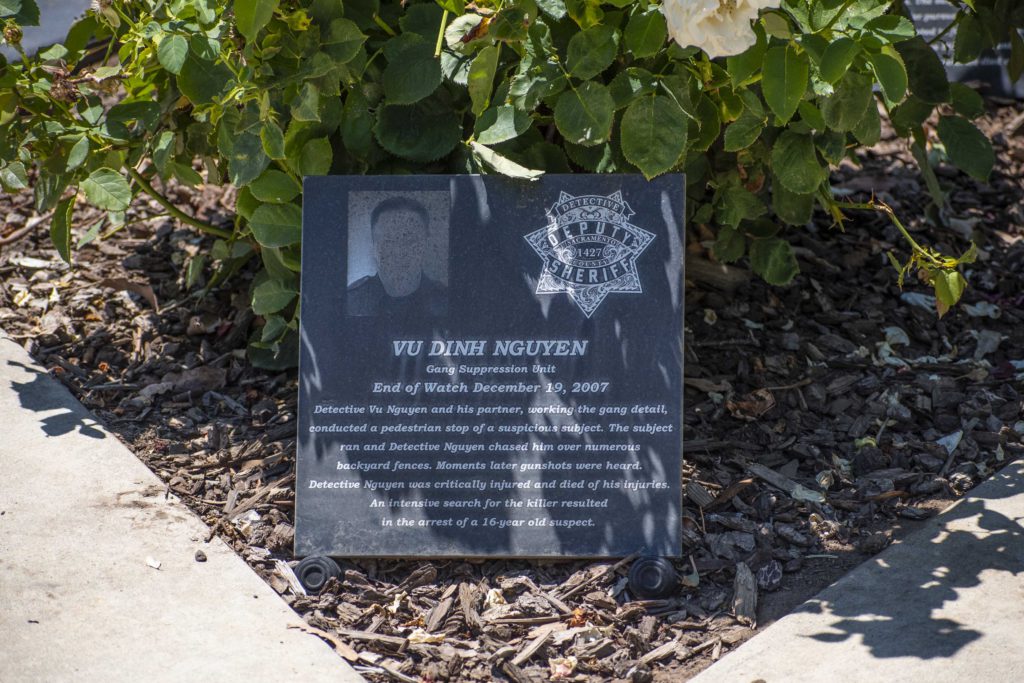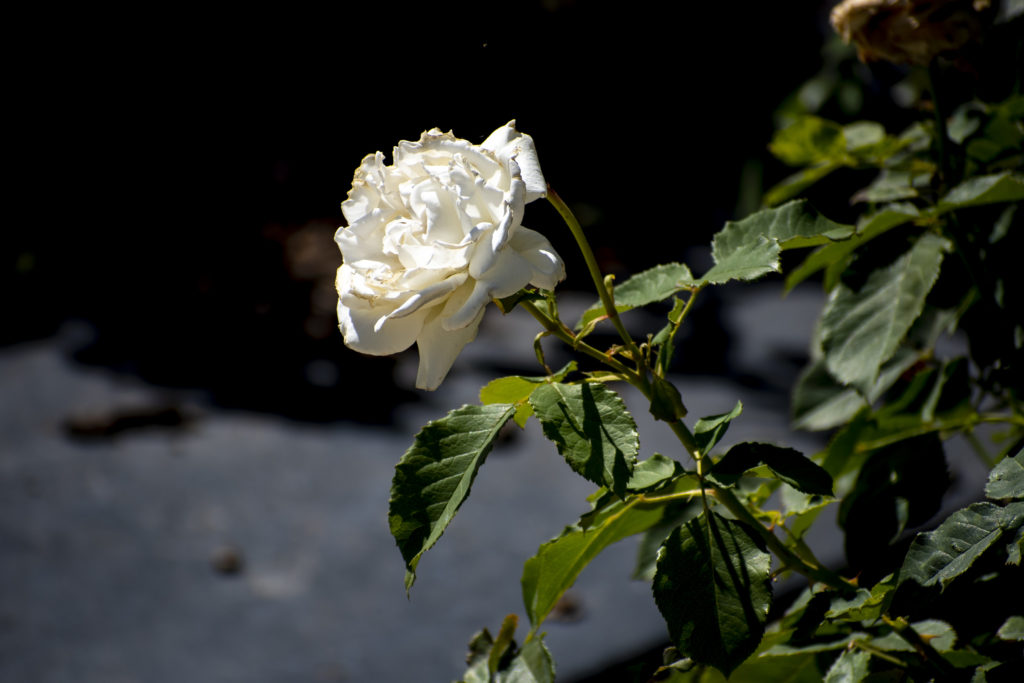 Rio Cosumnes Correctional Center
A memorial wall in the administrative area of the Rio Cosumnes Correctional Center bears a plaque honoring Vu Nguyen.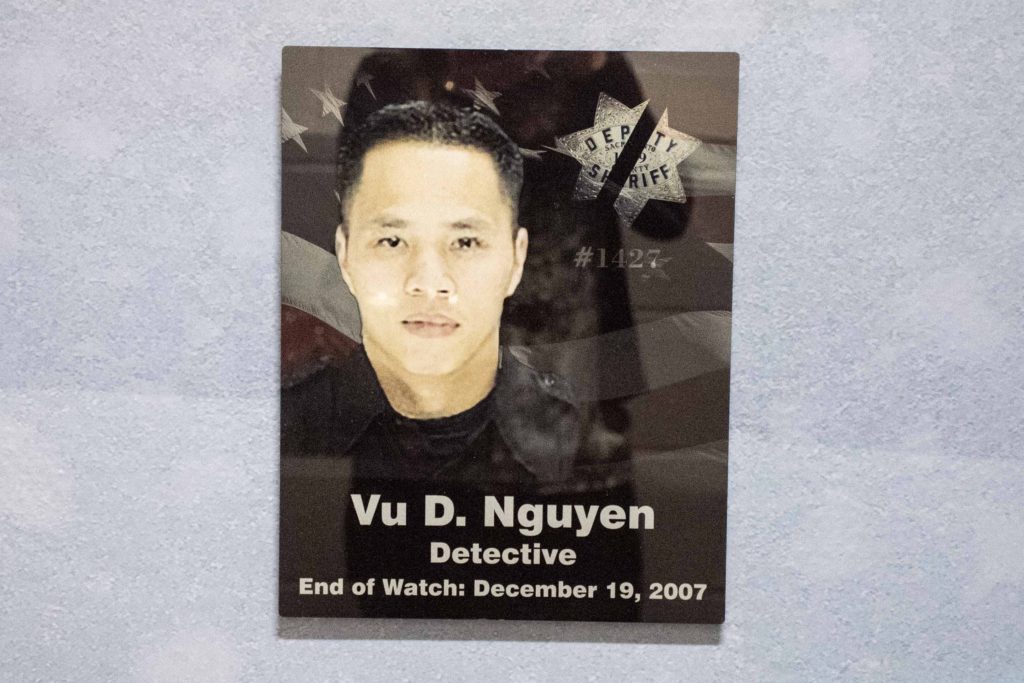 Flower Wreaths from Vu's funeral: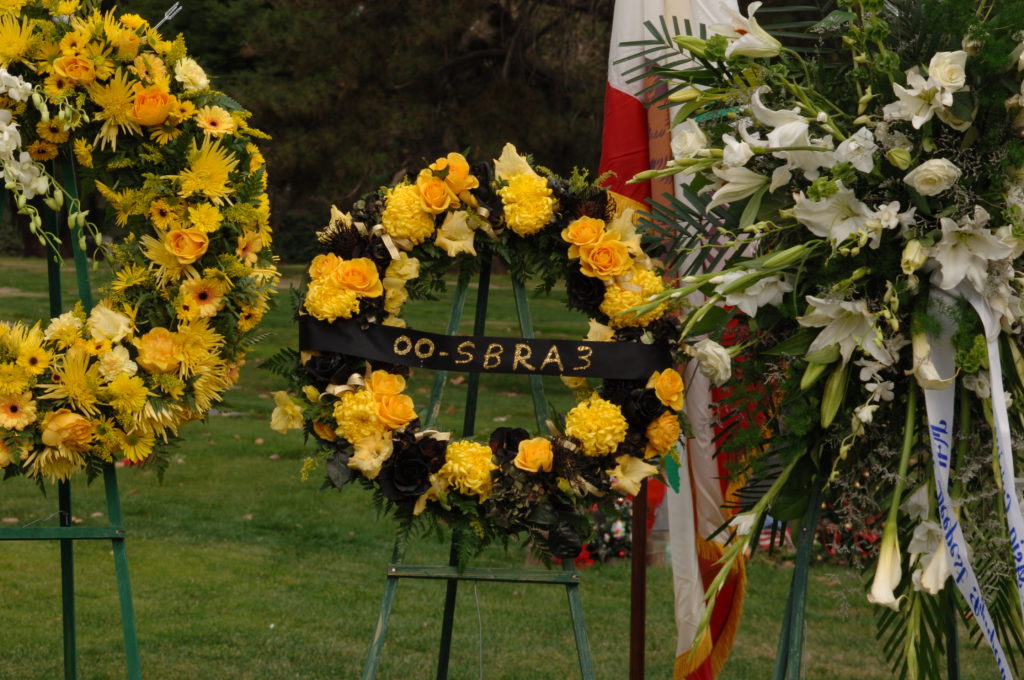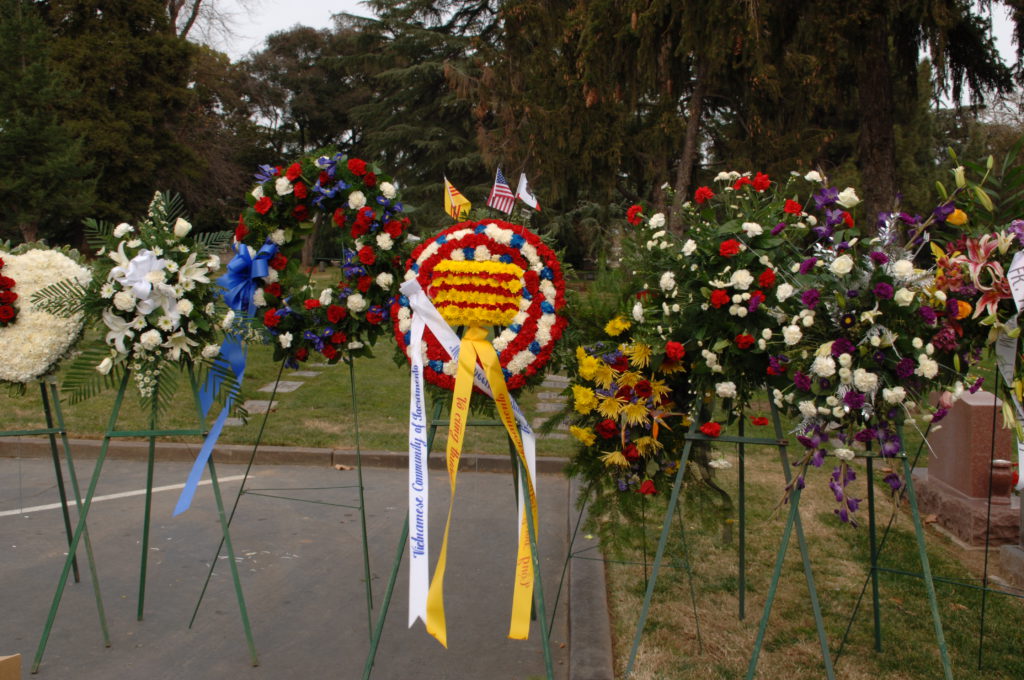 Grave Site
Vu Nguyen was laid to rest in Crypt 216, Tier 1, in the Miller Building at East Lawn Memorial Park, located at Folsom Boulevard and 43rd Avenue in Sacramento.